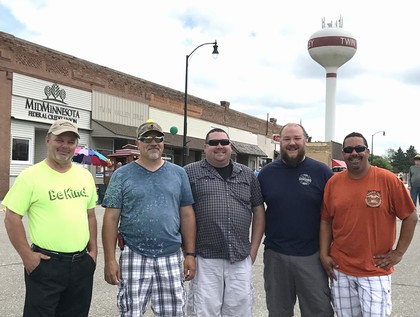 2017 Council Members (Joel Pearson, Mike Lampton, Ben Fall, Nate Dobmeyer, Mike Bolton) attending the 2017 Town and Country Day's Events Downtown Twin Valley.
Twin Valley is a Statutory Optional Plan "A" City--which follows MN Statutory Laws. Municipal Elections are held every two (2) years in the month of November. The City's General Election is held in the Even years.

The Twin Valley Community Center is the polling place for all city elections. Polls are open from 7AM to 8PM on Primary & General Election days.

Statutory City - Plan A Congressional District: 7 Legislative District: 02A

The City Council is made up of five (5) elected members: 1 Mayor and 4 Council. The mayor is elected for a two (2) year term. The council members are elected on alternating four (4) year terms. The format is a Weak Mayor-Strong Council, all members are voting members and decisions are made by a majority vote or a percent based on statutory requirements.

Current Members and terms of office:
Ben Fall - Mayor
Joel Pearson - Council Member /Vice Mayor
Mike Bolton - Council Member
Nate Dobmeyer - Council Member
Mike Lampton - Council Member
The City Council holds regular monthly meetings on the second Monday of each month.
If anyone is interested in addressing the Council they may do so during the Citizen's Forum held at the beginning of the regular Council meeting or contact the City Hall by the Wednesday before the meeting to be put on the agenda.

Notices and agendas are posted at City Hall.